News About EBT Finals 2018   Venue  Teams  Schedule & Results Live Streaming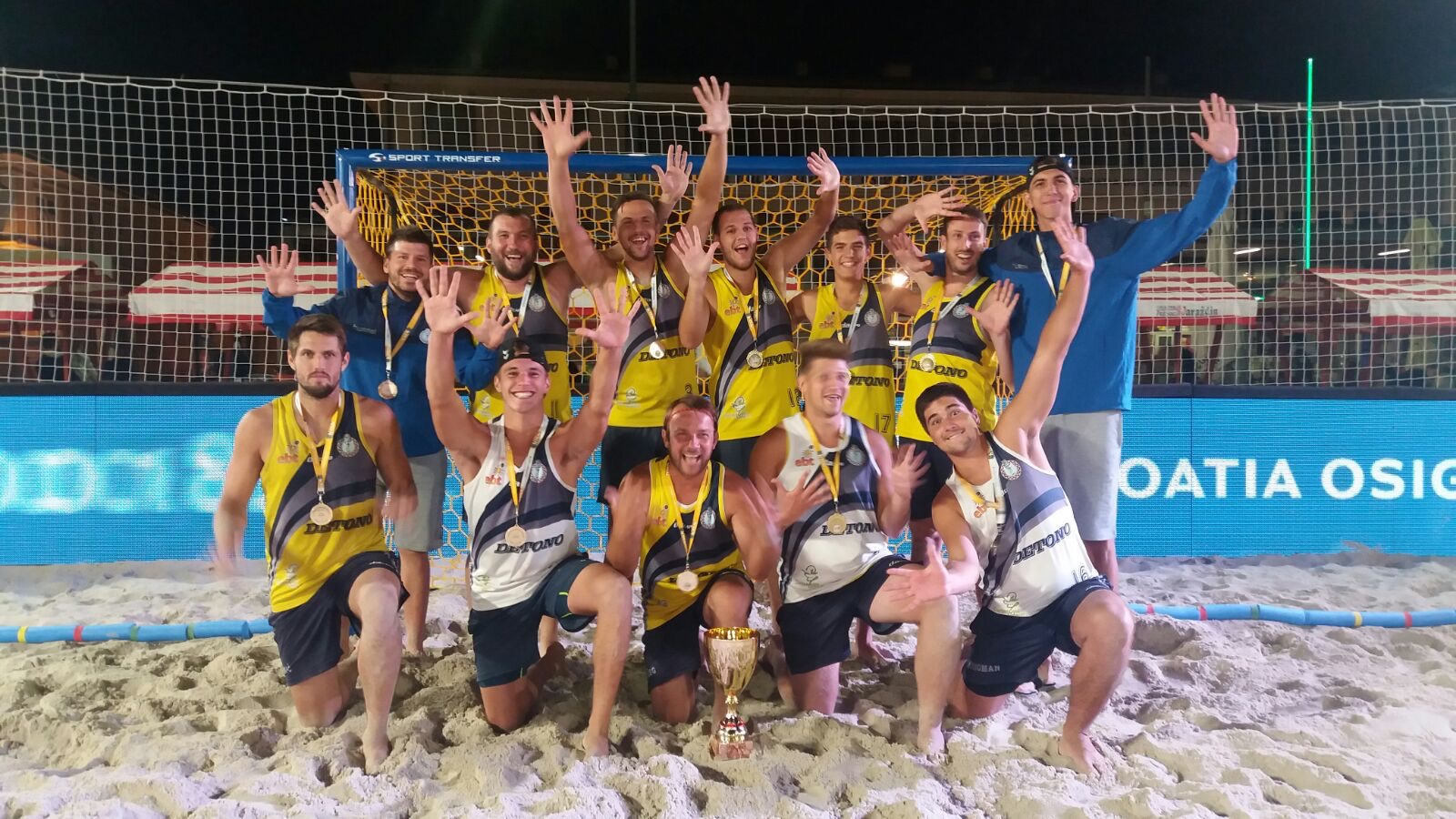 1. Who are you?
Academic beach handball club Zagreb was formed in 2006 and since then it has become one of the most successful European beach handball clubs. The club consist of two teams in men and women category and team names were given according to the sponsors that invest in our beach handball development: Chemo-profili Zagreb and Detono Zagreb. We are the only team that has three representative teams as part of EBT Masters finals.
Our club doesn't have stars at all, it just has great players, coach and well balanced defensive and offensive part ;). Of course, good games in the club gave the opportunity to some players to become a part of the Croatian national selection in men category, which is the most successful European selection in this attractive sport.
2. What is your biggest team success in beach handball ?
So far we won 7 Masters titles in men category, 2 in women category, 1  2nd place and 2 3rd places. We are very proud on those titles because they are the symbol of our determination and striving to play the best on each competition. Except the titles on international scene, we do have more than 10 titles of Croatian champions, and more than 150 trophies in our club rooms. So far, we are pretty satisfied, but those titles do not mean anything if you will not constantly improve yourself and the game, so we always like to say that history is nice, but the present and the future need to be even nicer 😉
3. Why do you play beach handball?
Many people would say that beach handball means a lot of sun and fun and those were the reasons for liking beach handball. We would like to add few things:
– a high level of fair play during the matches,
– decreased incidence of injuries,
– loud music during the games,
– a lot of travel.
Those are the main reasons why people enjoy the beachhandball.
4. Do you have you trademark song/music/team shout/motto? What is it?
We are like Pokemons 😉 – Gotta Catch 'em all 😉 😉
Just kidding. We do not have our trademark song, but we definitely choose one song on each competition and make it our personal "tournament song". If we would need to point one or two songs for the motivation, those would be Croatian songs: Moja domovina, and Srce vatreno.
5. If you could add one person to your team (anyone – athlete, movie star, actor, singer, scientist), who would you choose?
First person we would like to add is the physiotherapist 😉
6. What was the longest you have ever spend travelling for a tournament?
We do have one epic tournament that was held in 2010 in Agrinio, Greece (Emileon Cup).
That was the last tournament of the EBT season and only first place ensured to us enough points to qualify on the EBT Masters finals. So, after the work on Friday, we started to travel by van for 16 hours in one direction. After that, we played the tournament, won it, and started to drive back on Sunday after the tournament. So, that was the epic trip because we won the tournament, visited Greece, ensured the spot on EBT Masters finals and for all of that we did not have to take even single free day (all players regularly worked on Monday 😉 )
7. If you could have any one superpower (for all team members), which would you choose?
Maybe endurance, so we could drive 30 hours in one direction, without getting tired, so we could reach by van some tournament in Portugal or in Russia 😉
8. If there was a movie about your team what would be its title?
The Team, definitely (capital letter)!
9. If your team was stranded on a desert island, what three items would you want to have with you? Hm, tough question.
I am not sure. The ball is definitively the first option, but I am not sure whether two goals or goal + line system would be better option 😉