News About EBT Finals 2018   Venue  Teams  Schedule & Results Live Streaming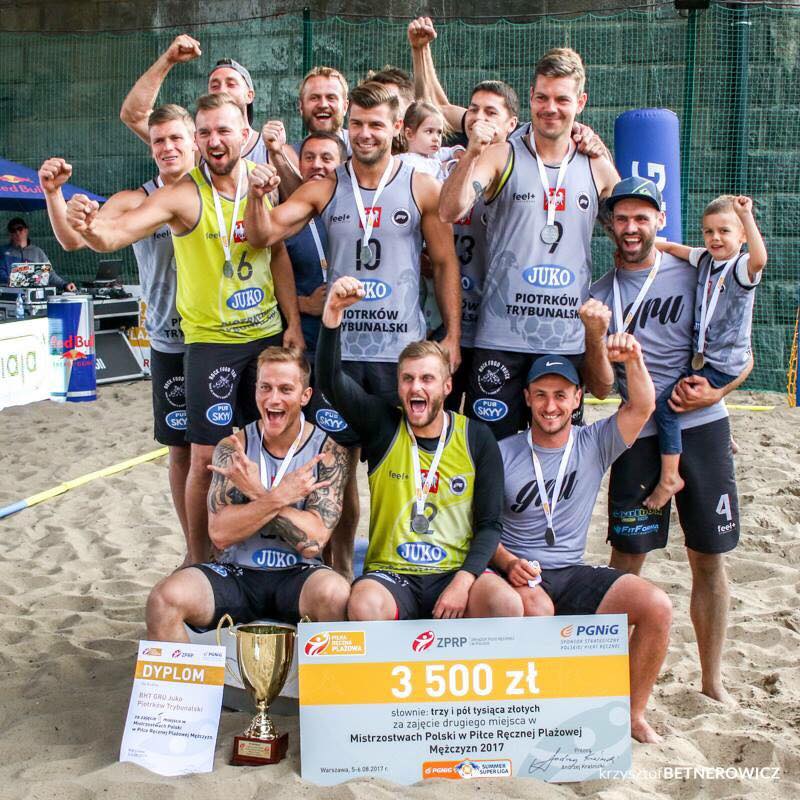 1. Who are you?
We play together over 11 years. Previously as a "GRU Poznań", now as a "GRU JUKO Piotrkòw Trybunalski, but we all live in a different parts of country. All these years we've been located at the podium in every each of national tournaments. Not unexpectedly. Our crew members have been selected to national team of Poland many times and they are still there. Our legendary players 've been Wojtek "Neighbour" Cielas and Paweł "White Sausage" Rafalski.
2. Your biggest team success in beach handball?
Our biggest team success is 6th place in the European Beach Handball Tournament, The Saloniki 2014
3. Why do you play beach handball?
We play beach handball, because it helps and let us during the weekend to completely another dimension and forget about the reality
4. Do you have you trademark song/music/team shout/motto? What is it?
Our favourite song is Jay-Z & Kanye West – Niggaz In Paris
Our shout is "Auuuu!!!"
Our motto is "Stay together"
Those keep us going and never giving up.
5. If you could add one person to your team (anyone – athlete, movie star, actor, singer, scientist), who would you choose?
We would choose Taz – The Tasmanian Devil. He twist perfectly ?
6. What was the longest you have ever spend travelling for a tournament?
Our journey to Salgo Cup was really really long. Because of car troubles it took 'teen of hours to get there.
7. If you could have any one superpower (for all team members), which would you choose?
Our wanted superpower is correct singing ?
8. If there was a movie about your team what would be its title?
"Fast and Furious: Beach Drift"
9. If your team was stranded on a desert island, what three items would you want to have with you?
Handball, beer and sunbathing olive for Maciej?